Hey guys 🙂
After a horrible weekend…my mind has gone blank as to what to post. So I decided to show you some pieces from my shop…I ship worldwide by the way 🙂
I set this shop up a few weeks ago, forget when it was hehe, wanting to basically start a kind of childhood dream I had. I wanted to be a fashion designer before but then I got into Camera work. I still love fashion though…as ye already know hehe 🙂 So after thinking about it I decided to start my shop. At the moment it has mostly my own clothes which don't fit me anymore 😦 But I do have four items that are more my kind of style…maybe. Well I'm hoping to have my shop as a Vintage/Modern/Edgy type shop. Reflecting my style and what I think buyers would like. I will keep track of what is out there and what  people like. I want to sell pieces that I know I would definitely wear.
I currently don't have any photos to show what the clothes look like on but I'm hoping I'll take some photos..if requested. Or maybe I just should?
I won't be putting anything up to sell if it's not in good condition. I will also be making and customising ( upon request ) pieces. I currently have a vintage Levi Cut offs on sale, their a waist 26″ which I could customise if anyone wants me to. I'm hoping to buy dye also. I have made a maxi tartan skirt with a slit that I'm almost finished with and will be showing you, or maybe some of you already seen it if you follow my shop on twitter…if not then you can follow here. So as you can see I am really in to this and am hoping I can still have it and it won't turn into a failure hehe. I know it takes time and trust so that I know.
Anyways here are some pieces that you can find in the shop and how I would wear them.
First off are the Levi High Waisted Cut-Off shorts: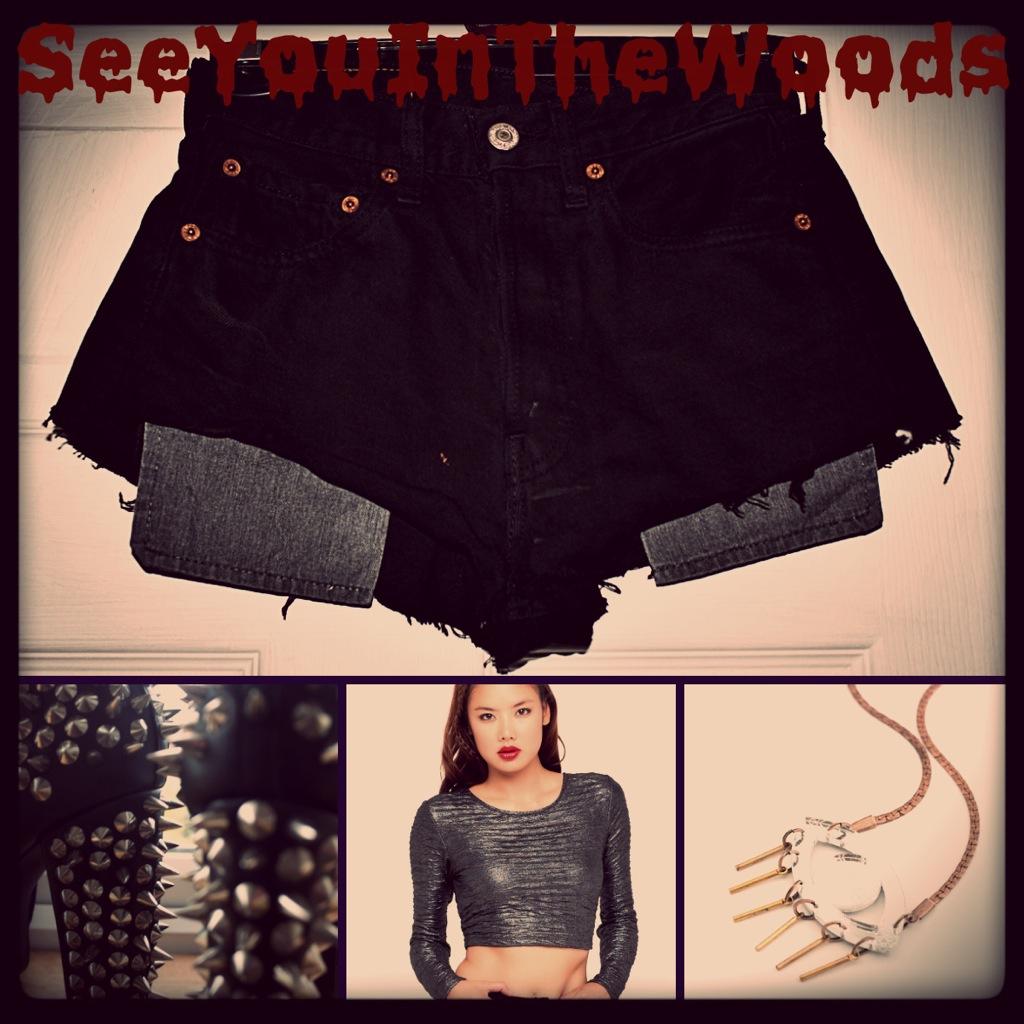 Levi Cut-Off Shorts-JCLita Spikes-Motel Crop Top-Regal Rose Evil Eye Necklace
(20% off Motel with code elizabethsbeauty)
I would wear these with a cardigan or jumper tucked in and either an oversized coat or a leather jacket. These shorts can be customised if requested.
Next up is this gorgeous Yayer Dress I was lucky to find in a thrift shop. It still has the tag on it. It does need a wash to take away the thrift shop smell but it's in good condition. I have paired it with the Zara Dragonfly Hoodie that is also on sale. Great fitted hoodie.
I have a gorgeous sparkly dress that will be great for the Party season coming up…if you like sequins this is a great one! I would definitely toughen it up with a spiked leather jacket and some Hellbounds! Wear some sheer tights and it will give it an edgy look 🙂
The next, last item, I'm gonna show are the great Zara Jeans…I love these jeans and am sad to part with them but they don't fit 😦 They are soft…I don't know what the material is but they're soft and are black. They are kind of a skinny/straight leg. I paired them with this gorgeous top from High Heels Suicide and the gorgeous Hellbounds!
Anyways these are some of the items for sale in my shop. Now they're just a once off item, I only have one pair so when it's gone its gone 🙂 I have some great discounts also going which are if you buy two pairs of jeans you get €10 off and also you get free shipping when you spend €25 with the code FREESHIP so good bargains to be had 🙂
If you do want to see any item on email me 🙂 If you want anything customised contact me also 🙂
Follow the twitter page of my shop so you can get more discounts and sneak peeks of what I have in store or any little things that I am making and if you like it you can request it and I will make it for you 🙂
Here is the link to the Shop SeeYouInTheWoods 
Hope you like and keep an eye out because I will have more unique great clohes 🙂
You are Beautiful!
A