Hey guys 🙂
How was your Christmas? Did everyone get what they wanted?
I'm here to let ye guys know about my nails…it's sort of an update and review. Now I got gel nails as ye already know, see the post here, and am a few days the right index finger nail broke 😦 (You might have seen it in my twitter)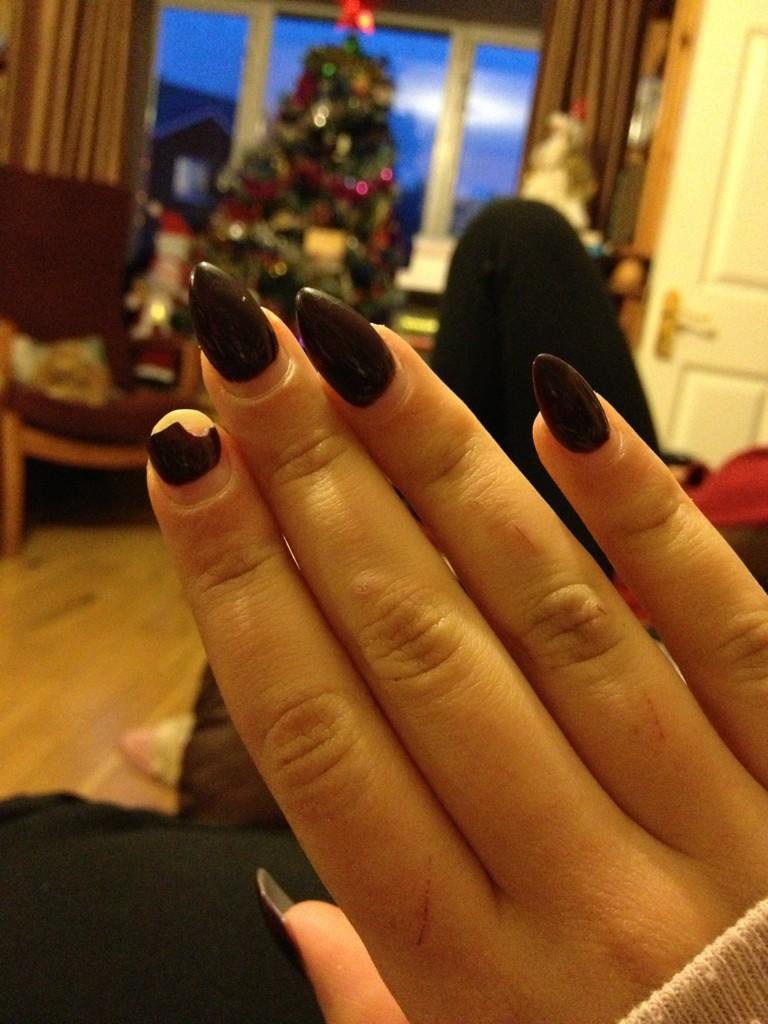 I was so sad it broke and rang the place where I got it done, the next day. (Shades Hair and Beauty) Now my review of getting it done there was positive..because I had a positive experience. However…when I rang up on the 22nd I let them know that my nail broke and would like to get it fixed. The vibe I got off the woman on the phone was of a not nice one because I guess it would be free getting it fixed…but anyways she asked if I needed to get them re-filled and I said no because they were fine for me. She then asked the woman who does the gels at what time she finished with the person she was with and she said 15 mins. The woman then said 'can you be here in 15 mins.' I don't know why she assumed I could but I said no, it was fine. So I didn't get it fixed.
I'm so disappointed with the way she came across to me…maybe she had a bad day or maybe she genuinely was annoyed because I wouldn't be paying to have one nail fixed.
The gels are supposed to last 3 weeks to a month. I got them done on the 30th of Nov and when the nail broke it was just 2 and a half weeks. I know it's almost 3 weeks but you would expect them not to break that fast. Well I wouldn't expect them to. Thank goodness I didn't pay the full price as there was an offer in the month of November. The full price is €50 I got it done for €30.
I then, frustrated after the call to Shades Hair and Beauty, looked up another salon thing which was closer to me and asked for an appointment to get my gels removed. I got them removed today. And…it's put me off getting gels again because the amount of filing and a little bit of pain and also your nails are sooo weak and destroyed after them I won't be getting them again. Now I loved them…I loved my gel nails when I had them but won't be getting them any more. I'll just hope that I can grow my own nails.
After the technician, Susan of Eternal Beauty (www.eternalbeauty.ie) filed down the gel and after a little of the gel came off my nail, I decided to get Shellac, after she had recommended that they were much better than gels because they didn't damage your nails. Shellac is more of a polish but it does have a little bit of gel in it. She let me know that to remove the Shellac I would just need to soak them and they would come off. Also that it would help the rest of the gel come off. I decided to get it because my nails looked horrendous after some of the gel was removed. I had to…I wanted my nails to look good for New Years 🙂
It was a fast procedure, and the UV light you have to put your nails under just blows air on your fingers…it's basically a fan. No burning sensation like the gels. I was also impressed with the place. It's always nice to walk into a great looking beauty salon. It's really nice in there 🙂
I'm happy that I got the gels done because I got to try them and I know now that even though I do love those pointy talons I don't like what it does to my nails and I don't like all that filing down that the technician needs to do. I already knew though that it would damage my nails…I didn't know just how much damage would occur. My nails are short now but I prefer them to try and get healthy and grow by themselves.
I like the colour I picked…I picked this colour because my New Years dress is a copper colour, my boyfriend got it for me for Christmas, and thought it would go great together and also with my other clothes.
Removing the gel nails and the shellac cost me in total €34. But it would vary on how long it would take to take off the gels. So I don't know if it will cost you the same. The Shellac on it's own costs €24.
Eternal Beauty has three salons here in Limerick, two in town and one by me. They're worth going to and Susan was lovely also the receptionist, whom I know, was lovely and helpful too…she got me thinking of getting the Shellacs also. Thank you Kayla 😀
I'm happy with my nails now…hopefully I can grow them and will keep ye updated 🙂
Hope you have had a great day or are having a great day  😀
You are Beautiful!
Ana